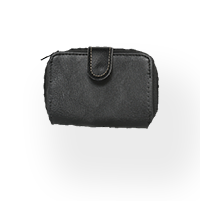 Abd al-Aziz al-Khayyir is a Syrian political figure and the head of the Foreign Affairs Office of the National Coordination Body for Democratic Change (NCB). He was detained from 1992 until 2005 for his peaceful activities as a member of the Party of Communist Action and considered to be a prisoner of conscience by Amnesty International. On 20 September 2012, he was arrested by the Air Force Intelligence at a checkpoint after arriving in Damascus following a visit to China on behalf of the NCB. Unofficial sources claim that he was taken to an Air Force Intelligence branch in al-Mezzeh, Damascus, and was then transferred to an unknown location in February 2013. The Syrian authorities deny his arrest and detention and the state news agency, SANA, stated that he has been kidnapped by members of a "terrorist group". A number of other NCB members also remain detained or subjected to enforced disappearance.
Abd al-Aziz left a wallet behind.
The audio is a recorded interview with his wife Fadwa Mahmoud, a prominent activist, former detainee and founding member of Families for Freedom. Fadwa's son, Maher Tahan, was also arrested and forcibly disappeared with Abd al-Aziz al-Khayyir on 20 September 2012.